Hilton Head Vacation Rentals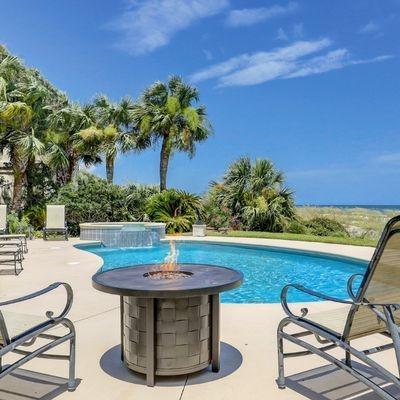 At The Vacation Company we have a selection of nearly 400 exclusive Hilton Head Island vacation rentals. Choose from beach-chic villas and gorgeous private oceanfront rentals all with resort-style amenities, fast internet connections, and of course Hilton Head as the backdrop. When you Book Directly with The Vacation Company, you do not pay the extra fees charged by some directory sites.
Check out our dedicated pages with a wide selection of Hilton Head luxury rentals, villas, and condos and start planning your next South Carolina beach getaway today!

Is the view a must-have? Check our Hilton Head Oceanfront Rentals page. We are sure you will find the perfect place for your next Hilton Head Vacation!
Looking for a charming villa? Check out our Hilton Head Condo Rentals page.
---
Are there one-bedroom vacation rentals in Hilton Head Island?
Absolutely! Hilton Head Island offers a variety of one-bedroom vacation rentals to accommodate different preferences and budgets. Check out our Hilton Head Villas page with hundreds of available rentals to choose from. When searching for a one-bedroom rental, be sure to specify your preferences, such as location, amenities, and budget, to narrow down your options. Use Whether you prefer a beachfront property, a golf course view, or proximity to popular attractions, Hilton Head Island has a variety of options to make your vacation enjoyable and comfortable.
Can I find two-bedroom vacation rentals in Hilton Head Island?
Certainly! Hilton Head Island offers a diverse selection of two-bedroom vacation rentals to cater to different preferences and group sizes. From spacious condos to beachfront Hilton Head Villas , there are numerous options to choose from. Hilton Head Island's two-bedroom vacation rentals offer flexibility and comfort, whether you're looking for a family-friendly environment or a relaxing retreat with friends. Explore the options available to ensure a memorable and enjoyable stay on the island.
What's so special about hilton head?
Hilton Head Island stands out as a distinctive destination with a blend of natural wonders and upscale amenities. Hilton Head provides an idyllic backdrop for relaxation and an array of water activities. It's a great destination for outdoor enthusiasts, with 60 miles of bike paths, championship golf courses designed by renowned architects, and opportunities for kayaking, paddleboarding, and exploring nature preserves. Hilton Head's commitment to preserving its unique environment is reflected in the abundance of wildlife, including dolphins, sea turtles, and diverse bird species. Visitors can immerse themselves in the island's ecosystem through educational experiences at the Coastal Discovery Museum and other nature centers. In addition to its natural allure, Hilton Head Island offers a refined experience with upscale resorts and accommodations. The island's culinary scene is diverse and vibrant, featuring restaurants that showcase fresh seafood, Lowcountry cuisine, and international flavors, making Hilton Head a destination that caters to a wide range of interests and ages, ensuring a memorable and fulfilling stay for all who visit.
Does Hilton Head have condos on the beach?
We have a great selection of Condo Rentals to choose from. With hundreds of Hilton Head Villas, we're sure you'll find the perfect villa and create a memorable vacation!
What is the best time of year to visit Hilton Head?
The best time to visit Hilton Head largely depends on personal preferences and desired experiences. Many find the spring (March to May) and fall (September to November) to be optimal, offering mild temperatures, lush landscapes, and fewer crowds. Spring brings blooming flora and comfortable weather, while fall showcases vibrant foliage and a quieter ambiance. Summer (June to August) is popular for warm temperatures, lively energy, and water activities. Winter (December to February) offers a quieter experience with milder temperatures, making it an appealing option for those seeking a more relaxed stay. Overall, Hilton Head provides a year-round destination with diverse offerings, allowing visitors to choose the season that aligns best with their preferences.
Where is the best area of Hilton Head?
Determining the best area of Hilton Head depends on individual preferences and the type of experience you're seeking. If you enjoy a vibrant atmosphere with a plethora of shops, restaurants, and entertainment options, Harbour Town in Sea Pines is a popular choice. Here, you can explore the iconic Harbour Town Lighthouse, dine by the marina, and enjoy waterfront activities. For those seeking a more secluded and nature-centric experience, the South Forest Beach area provides a serene environment with easy access to the beach and nearby nature preserves. Additionally, the Palmetto Dunes area is renowned for its upscale resorts, golf courses, and a network of lagoons for kayaking and canoeing. If you're a fan of golf, the Shipyard area boasts world-class golf courses, and it's also near Coligny Beach Park, offering a mix of recreation and relaxation. Families often find the Shelter Cove area appealing, with its marina, shopping, and family-friendly activities.
What if I have more questions about renting a Hilton Head Vacation Rental?
If you're considering a trip up to Hilton Head Island, but haven't before and have questions we're here to help. We encourage you to book local because we can better serve you and provide a more personable experience. Check out our FAQ page for more commonly asked questions, but never hesitate to call us, we're happy to help.
---