77 Mooring Buoy | Palmetto Dunes Home Vacation Rental | Hilton Head Island, South Carolina, SC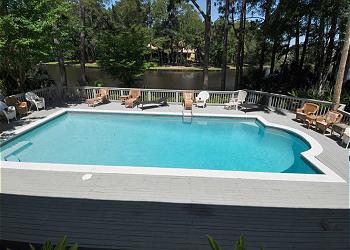 Interested in availability that does NOT fall during a standard Saturday - Saturday reservation period? Please call 855-845-7018. Thank you for choosing The Vacation Company.
This 6,000 square-foot 6 bedroom, 6 bathroom luxury home with *heated pool and adjoining carriage house has everything you could ask for. Located on a large private lot in Palmetto Dunes Resort, directly on the 12 mile lagoon system with your own private dock and only steps from the beach, this is a vacation experience not to be equalled. Recently renovated to feature open and covered decks, and expansive and stunning views of the lagoon.
With 5 bedrooms, 5 baths, 2 living rooms, game room, brand new kitchen, and dining room with fireplace, there is room enough for everyone to enjoy their own brand of entertainment. The new carriage house has a master bedroom with a king bed, master bath, coffee bar, and gathering room with sleeper sofa. A perfect accommodation for nanny, grandparents, or family with infants. With easy access to nearby golf course, beach, shopping and dining this is the most luxurious vacation rental home for multiple families or groups. Free wireless internet access. Free tennis at the Palmetto Dunes Tennis Center. 7 tv's, 3 dvd players.
6 BR, 6 BA
Pool
Palmetto Dunes
4 Kings, 1 Queen, 1 Twin bunkbed set, 1 Queen sleeper sofa in carriage house
Sleeps 14
*Pool can be heated at an additional cost from April - November annually. Please inquire in advance of your stay.
**A fee door-to-door shuttle to the beach and Shelter Cove Marina runs seasonally March-October.
Rate Table
Date Range:
Weekly
04/05/2014 - 04/25/2014
$5,295.00
04/26/2014 - 05/09/2014
$4,195.00
05/10/2014 - 05/23/2014
$4,195.00
05/24/2014 - 05/30/2014
$5,295.00
05/31/2014 - 06/13/2014
$4,395.00
06/14/2014 - 06/27/2014
$7,495.00
06/28/2014 - 07/04/2014
$7,795.00
07/05/2014 - 08/08/2014
$7,495.00
08/09/2014 - 08/22/2014
$6,795.00
08/23/2014 - 09/05/2014
$5,295.00
09/06/2014 - 10/17/2014
$4,195.00
10/18/2014 - 11/21/2014
$2,995.00
11/22/2014 - 11/30/2014
$4,195.00
12/01/2014 - 12/19/2014
$2,995.00
12/20/2014 - 01/02/2015
$4,195.00
01/03/2015 - 03/06/2015
$2,995.00
03/07/2015 - 03/27/2015
$4,195.00
03/28/2015 - 04/17/2015
$5,295.00
04/18/2015 - 05/08/2015
$4,195.00
Fill out this form and press the "Send Request" button to receive our color brochure via the U.S. Mail.
| | | |
| --- | --- | --- |
| Name: | | |
| Address: | | |
| City: | | |
| State: | | |
| Zip Code: | | |
| Country: | | |
| E-mail: | | |
| Work Phone: | | |
| Fax Number: | | |
| Home Phone: | | |
| Requested Dates: | | |
Yes, I would like to request a catalog


How did you find our Website?


A few comments for Vacation Company, Hilton Head Island:




Total Reviews:

5

Average Rating:
| | |
| --- | --- |
| comfortable | |
Name:

357/810357

Review Date: 09/02/2012

For the second year in a row we have stayed here. The veiw, location, and pool are perfect. There is a couple of easy, inexpensive fixes... For large groups, which is what this home appeals to there needs to be more pots and pans..also a couple more dish towels. Also, drinking glasses were at a premium.The margarita glasses are cute, but drinking glasses and a few more wine glasses would be nice. The cabinets were a bit of hodgepodge. Serving bowls would be a plus.
| | |
| --- | --- |
| Location, location, location! | |
Name:

nancyneal2

Review Date: 08/13/2012

We have been coming to HH for the past 7 years...but the first time to rent this great home. What a great home for gatherings...we had our family from TX, CT and SC and it fit us well. Wonderful, large rooms, flat screen TVs everywhere you look, big porch overlooking pool and lagoon...we ate almost every meal outside (the flies never found us)...home is offset from street which is great for small guests...ocean nearby. Our only criticism...we had to leave! We have booked for 2013 and the whole family is delighted.
| | |
| --- | --- |
| A Beautiful Week on Hilton Head Island | |
Name:

3936/773936

Review Date: 07/24/2012

We stayed at a large, well laid out home with 5 bedrooms and 5 private bathrooms. In addition, there is a carriage house over the garage which was great for our son, his wife and 4 month old baby. The best thing about the home is the large pool overlooking a wide, beautiful section of lagoon. There is also a spacious open back porch which overlooks this perfect scene. The house is a quick 5 minute walk to the beach. There were a few palmetto bugs present in the house, but maybe that is to be expected in Hilton Head. We are new to house renting, and I only wish that the rental company would provide a small welcome basket of shampoo, conditioner, and a few essential kitchen items. Some of us flew in, and we all started with very few supplies, so found ourselves going to shop at the store after quickly unloading our bags. It would be a nice small amenity given the cost of this weekly rental.
| | |
| --- | --- |
| Awesome | |
Name:

986/760986

Review Date: 07/12/2012

It was awesome. We had the best vacation ever.The location, house everything was perfect. We have no complaints. We are coming back next year. We wanted to get a bigger house but it was voted down because this house has so much, the lagoon to fish and kayak, nice big pool plus the carriage house for grandma and grandpa. The house is off road so the kids can ride bikes. Vacation company was great. Thank you so much.
| | |
| --- | --- |
| Our Favorite Vacation Ever! | |
Name:

randi377

Review Date: 06/16/2012

We have a family of 12 and try to vacation together every other year. We had never stayed at HH. The family actually liked this over our vacation to Disney World! The house was very accommodating.We had a couple extra friends, So there were 14 this vacation. Plenty of room for all. Loved it! The teen boys enjoyed the separate quarters over the garage. The large pool area was perfect. Minutes to the beach via the beautiful tunnel of vegetation path practically across the street. The lagoon provided fishing time and we rented a kayak and canoe to explore. Bike riding was my favorite. The bike paths are many and we loved riding to the little general store for coffee in the morning. If you need a family picture on the beach taken professionaly I will be glad to give you a great photographer's name!
Check Property Availability
Check In
Check Out
Base Rate
Adults
Children
Rating: