1764 Bluff Villas, South Beach Marina, Sea Pines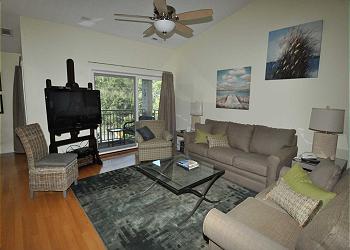 Interested in availability that does NOT fall during a standard Saturday - Saturday reservation period? Please call 855-845-7018. Thank you for choosing The Vacation Company.
Spacious, 2 bedroom, 2 bath Bluff Villa on the 3rd floor of a 3-story walk up has been beautifully furnished with a brand new kitchen, and hardwood flooring as well as new furnishings and mattresses through out. This villa has been beautifully upgraded with many top of the line amenities! The living room is outfitted with a 46" HDTV with a BluRay player. The master bedroom has a 32"HDTV and the 2nd bedroom has a 29" HDTV. Located in the center of South Beach between the Calibogue Sound and the Braddock Cove inlet, you are barely a stone's throw from the South Beach Marina with shops, al fresco dining, the Salty Dog, seasonal outdoor live entertainment! This is among the favorite Sea Pines villa rentals for water sport enthusiasts. Free internet access. Free tennis at the South Beach Racquet Club. 3tv's, 1 BluRay.
2 BR, 2 BA
Sea Pines
1 King, 2 Twins, 1 Queen sleeper sofa
Sleeps 6
Rate Table
Date Range:
Weekly
12/02/2013 - 12/20/2013
$595.00
12/21/2013 - 01/03/2014
$795.00
01/04/2014 - 03/07/2014
$595.00
03/08/2014 - 04/04/2014
$795.00
04/05/2014 - 04/25/2014
$895.00
04/26/2014 - 05/09/2014
$795.00
05/10/2014 - 05/23/2014
$795.00
05/24/2014 - 05/30/2014
$895.00
05/31/2014 - 06/13/2014
$1,095.00
06/14/2014 - 06/27/2014
$1,295.00
06/28/2014 - 07/04/2014
$1,395.00
07/05/2014 - 08/08/2014
$1,295.00
08/09/2014 - 08/22/2014
$1,195.00
08/23/2014 - 09/05/2014
$995.00
09/06/2014 - 10/17/2014
$795.00
10/18/2014 - 11/21/2014
$595.00
11/22/2014 - 11/30/2014
$795.00
12/01/2014 - 12/19/2014
$595.00
Fill out this form and press the "Send Request" button to receive our color brochure via the U.S. Mail.
| | | |
| --- | --- | --- |
| Name: | | |
| Address: | | |
| City: | | |
| State: | | |
| Zip Code: | | |
| Country: | | |
| E-mail: | | |
| Work Phone: | | |
| Fax Number: | | |
| Home Phone: | | |
| Requested Dates: | | |
Yes, I would like to request a catalog


How did you find our Website?


A few comments for Vacation Company, Hilton Head Island:




Total Reviews:

7

Average Rating:
| | |
| --- | --- |
| Feel at home away from home | |
Name:

41/1320041

Review Date: 07/15/2013

Bluff Villas were our first choice for a relaxing vacation for just the two of us. The owners of 1764 Bluff Villas are very kind and dedicated to quickly respond to inquiries or any other concern of their renters. We came in from overseas so we may have had a few more questions, but they were so patient. And the very same dedication and attention are paid to their home away from home. The villa is spacious, beautifully furnished and decorated to blend into the island's attitude and it is very well maintained. The master bedroom faces the inner yard of the complex and opens to a spacious bathroom with a large shower and two sinks. The king bed is very comfortable and the closet and drawer provide plenty of space for the beach wear. The kitchen, dining room and living room form one large living area which is very inviting to linger and relax. The kitchen is up-to-date and provides all appliances and utensils you need. The dining room is large enough to easily accommodate six. The living room is furnished with two large comfortable sofas and a large TV and opens to the balcony, which we preferred for our meal times to just sit, watch and wind down over coffee. Both washer and dryer, in a small separate closet, are large and up-to-date. Beach toys and books and a few board games are provided in a separate closet. The owners greeted us with a little beach bucket filled with sweets and also provided us with a starter kit of dish and laundry detergent as well as bathroom tissue and paper towels. Apart from those daily necessity goodies they invite their guests to use the community pool, which you can only access with a key and a free hour of tennis every day, both located at the South Beach Marina Village, a few steps from the villa. The beach at the Calibouge Sound is just a few yards across the street. We received a discount for bikes at South Beach Marina based on our stay at Bluff Villas. We will surely make the apartment our first choice when we return. Thank you!

Property Manager Response: 07/15/2013
We are so glad that you had such a great vacation and that you enjoyed your stay at 1764 Bluff Villa. We look forward to your return in the future to this awesome villa.

Beth Henzler
The Vacation Company
| | |
| --- | --- |
| Home away from Home | |
Name:

3147/1233147

Review Date: 06/27/2013

We loved the villa. It is so well decorated but done to make you feel so at home. The owners keep in touch and even have a small beach pail full of goodies upon your arrival. It is close to everything and things that aren't right there are easily driven too, or as we did, biked to everywhere we wishe to go. The beach is great and relaxing everyday with the dolphins is soo amazing!! Thanks again for letting us rent your villa and we will be back John and Jane Hagstrom

Property Manager Response: 06/27/2013
We are thrilled that you enjoyed your vacation at 1764 Bluff Villa. We'll look forward to you staying with us again soon.

Beth Henzler
The Vacation Company
| | |
| --- | --- |
| Awesome Villa - Highly Recommend | |
Name:

2378/1172378

Review Date: 06/13/2013

This is a beautiful villa. The owners truly care about every aspect of this rental and they are so gracious. It is close to everything. South Beach is a really fun area, especially for families. Pool, tennis, fishing, boating, restaurants, shops - it's all there. If you're planning a trip to Hilton Head, stay here. :)

Property Manager Response: 06/14/2013
We are thrilled that you enjoyed your vacation here on Hilton Head and that your stay at 1764 Bluff Villa was perfect. We hope that you'll come back and stay with us again.

Beth Henzler
The Vacation Company
| | |
| --- | --- |
| Fantastic villa | |
Name:

8298/1108298

Review Date: 05/29/2013

Recently renovated, this villa is fantastic. The only legit gripe is the limited view,and that its on the third floor. Otherwise it's just beautiful, and vacation company is nothing but professional.

Property Manager Response: 05/30/2013
We are so glad that you enjoyed your vacation at 1764 Bluff Villa. Thank you so much for taking the time to review this villa. This landscape view, 3rd floor villa does not provide you a water view, but we can certainly help you with that in the future (at another villa). The owners are hoping that you enjoyed all of the upgrades that they did to this villas interior and that it helped to make your vacation more memorable.

We look forward to seeing you next year.

Beth Henzler
The Vacation Company


| | |
| --- | --- |
| Lovely Vacation | |
Name:

4581/794581

Review Date: 08/15/2012

We had a fantastic vacation at Hilton Head, staying in the 1764 unit. The location was excellent, 5 minute walk to the beach, pool, marina village with restaurants, shops, ice cream, Salty Dog kids activities, and more. The condo was very nice and confortable. The kitchen can use a few more ammenities (common pieces of cookware, dish soap and sponge) to make cooking and dining in easier, but it was fine. We had a few issues with the wireless and washing machine while we were there; Vacation Company tried to address them (unfortunately they were unsuccessful during our short visit, but the customer service was good).
| | |
| --- | --- |
| Perfect vacation | |
Name:

3519/783519

Review Date: 08/02/2012

Booked at last minute but was exactly what we wanted. Great location, great condo and great price!
| | |
| --- | --- |
| We love this condo...high ceilings, nice kitchen, good mattresse | |
Name:

3998/773998

Review Date: 07/24/2012

We stay in this condo twice a year and love it! It's a great location right across from the beach, next to the marina, very convenient and is on the top floor so it has vaulted ceilings making it very open and airy. We love to eat breakfast on the porch overlooking the path to the beach...it's a pretty view! The kitchen has been updated with granite countertops, etc. and the mattresses are very comfortable (which is important). Our service from Vacation Company has always been excellent, prompt and friendly...so much so, we rent from them five times a year!! We have many great family memories here...and many more to come!
Check Property Availability
Check In
Check Out
Base Rate
Adults
Children
Rating: