17 Kingston Cove, Shipyard, Hilton Head
Located at Kingston Cove, Hilton Head, this cute beach cottage is elevated, has 3 bedrooms, 2 completely renovated baths, and is a quick bicycle ride to the ocean. At 1,360 heated square feet, you will love the open living area that encompasses the dining room (with seating for 8), and flows into the living room (with a large-screen tv mounted over the fireplace), and screened-in porch. Cottages within Kingston Cove, Hilton Head are surrounded by beautiful live oaks and tall pines of Shipyard Resort, It truly makes for a peaceful vacation experience.
The large, open kitchen with breakfast area is located off the dining room and provides additional seating for 4. The master bedroom is furnished with king bedding and has a private en-suite bathroom with custom tile and walk in shower, while the 2nd bedroom with queen bedding shares a bathroom with the 3rd bedroom that has twin beds. This vacation home rental provides the perfect tranquil backdrop if you're looking for a real break from it all. Book Shipyard rentals in Hilton Head today!
Free wireless internet access
Free tennis at the Van der Meer Tennis Center
4 tv's, 3 dvd players, 3 vcr's
3 Bedrooms, 2 Baths
Shipyard Rentals, Hilton Head
1 King, 1 Queen, 2 Twins, 1 Queen sleeper sofa
Sleeps 8
Thank you for entering your review. The review will become available to the system shortly.
April 2017 Stay
Rating:
Review Date: 04/27/2017
I am familiar with Kingston cove have visited for many years, I am thrilled to stay and we had a great experience. Will return in the spring again
November 2016 Stay
Rating:
Review Date: 11/28/2016
We had a wonderful Thanksgiving week. The house was perfect and the rental was seamless.
September 2016 Stay
Rating:
Review Date: 09/25/2016
Nice place. Had a great time. The house is wonderful. Everything we needed plus much more. Would recommend this property. Will be back.
July 2016 Stay
Rating:
Review Date: 08/30/2016
We had a wonderful stay at 17 Kingston Cove. Home was nicely decorated and comfortable. Would rent this home again.
August 2016 Stay
Rating:
Review Date: 08/23/2016
Vacation Company is terrific. Their whole process was a breeze-didn't even need to go to the office. Everything I needed was a feature in the app. The unit better than described. On checkin the unit was a bit slow to cool down, and when I called about it, Vacation Company had someone on my doorstep in minutes -so responsive.
July 2016 Stay
Rating:
Review Date: 07/09/2016
This was our first trip to Hilton Head. We loved this place. The house met all our expectations. Very convenient to the pool across the street, and a nice bike ride to the beach. Enjoyed sitting on the screened porch listening to the frogs and birds. House is tastefully decorated and very well maintained. Had everything we needed. The Vacation Company app was very informative and easy way to access information.
March 2016 Stay
Rating:
Review Date: 03/24/2016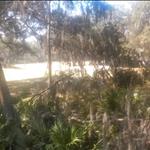 Loved it so much we've booked the same place for two weeks in the Fall. We particularly liked the screened porch. The photo shows the view from the porch.
August 2015 Stay
Rating:
Review Date: 08/23/2015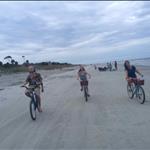 We loved our Hilton Head vacation! The house was perfect for our family and we loved the upgrades and tasteful decor. We greatly enjoyed the screened in porch and pool across the street. We spent the week beaching, biking, gator watching and RELAXING, it was awesome! We will definately rent this house again, thank you!
August 2015 Stay
Rating:
Review Date: 08/14/2015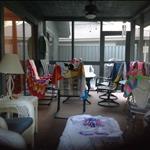 Once again we had a fantastic week here at 17 Kingston! What a super, super place to make our vacation extra special! LOVE the screened in porch and island in the kitchen where we had lots of laughs and great conversation. The updated bathrooms are wonderful - still love that oudoor shower! Saw dolphin and lots of pretty birds - and of course alligators. Rode our bikes all around - beach was superb with lots of sunshine. Thank you for making our 12th year to Hilton Head Island a vacation to remember - we've loved this house from the first time we stayed in it.
June 2015 Stay
Rating:
Review Date: 06/29/2015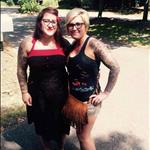 Our stay here was great. We loved everthing abojt this place! The screened in porch was def our favorite! The staff is awesome to work with too. My son left a necklace there when we left and they totally mailed it back to him:) i would totally reccomend this place and company
May 2015 Stay
Rating:
Review Date: 06/09/2015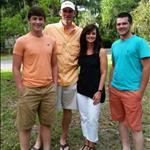 We had an awesome vacation. We have been coming to HHI since 2008. This is our happy place. We love the house at 17 Kingston Cove. Thanks for all you guys do to make our stay fabulous!!
17 kingston cove
Rating:
Review Date: 12/01/2014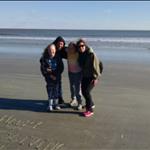 We had such a wonderful time on our vacation. Everything was great. The house was beautiful and we enjoyed the keyless entry. The only bummer was we went to use the grill checking the tank to make sure it had sone propane and we thought it did so we started cooking. It didn't make a few minutes before discovering no propane. That WS our only downfall and we made it work. Thank you for the wonderful place to rent to make lasting memories!
Perfect spot with plenty of space for one or two families!
Rating:
Review Date: 10/02/2013
The layout of these units is well suited to 2 families of 4 sharing a unit. The large living space with 3 tables in the kitchen, living room and patio allowed for everyone to sit down when eating in. We were regulars at Fresh Market just a few km's away and would cycle to Coligny Plaza and to the beach on a regular basis. If you want to be in the heart of the action in Hilton Head, Shipyard is the plantation to stay at. Shipyard Golf Course is great and easy to play early morning and be home to join in with other activities by lunch. We rented a pontoon in the sound and did eco kayaking in Bluffton where we saw dolphins right in front of our canoe after viewing the turkey buzzards up close.
Manager Response: 10/09/2013
Thank you so much for your nice review of 17 Kingston Cove. We are very glad that you had a great vacation and we hope that you'll come back soon and stay with us again.

Beth Henzler
The Vacation Company
Your request has been sent. We look forward to meeting all your vacation needs!